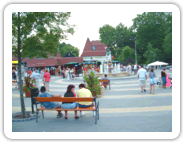 Balatonlelle is a traditional summer resort at the south-coast of the lake Balaton. It became famous and popular for vacation through its beautiful parks, high-standard shows and fine wine from the wineyards.
In 1928 was build the villa avenue (today Honvéd street) that is located parallel to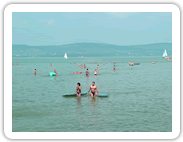 the beach and where you find the Restaurant and guest house "Green Bower". That time was built the summer resindence for the president of the Hungarian Republik.Balatonlelle has more than 4 km beach that is appropriate for swimming. At Balatonlelle the lake is shallow therefore an ideal beach for families with small children, too. Besides swimming, the town offers several possibilities for entertainment and sports day and night.