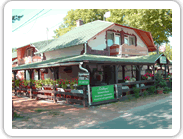 The restaurant "Green Bower" was built in the `50-s, later in 2003 it was renovated and a guesthouse was built as an expansion.150 meters from the guest house lies the free beach that you can approach on a walk way without street-traffic.
There are 3 rooms for 3 persons, 5 rooms for 4 persons and 1 room for 6 persons in the guest-house. All rooms have a bathroom and tv, and can be equipped with a spare bed.
Every room has a balcony or a terrace.
In our own restaurant can our guest have their breakfast that is included in the roomprice.
The restaurant offers delicious Hungarian and international food for our guests from the house and elsewhere. On the menu you can find a great range of dishes from fish, wild, poultry, beef and pork.
We also prepare food on free fire, in marmite or on grill. Of course we are able to serve you with vegetarian dishes as well.
Our restaurant can serve comfortably 70 persons at the same time, on the delightful terrace and in the indoor restaurant.
For our house-guests we also can ensure biking and sailing possibilities.